More than 220 libraries
Start right away using the supplied libraries featuring track systems of almost every brand.
Additional libraries include accessories like signals, houses, trees, electric components and other symbols for your layouts. A comprehensive collection of components for all major digital system is also included.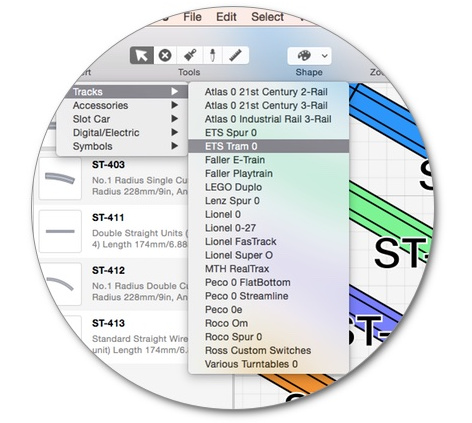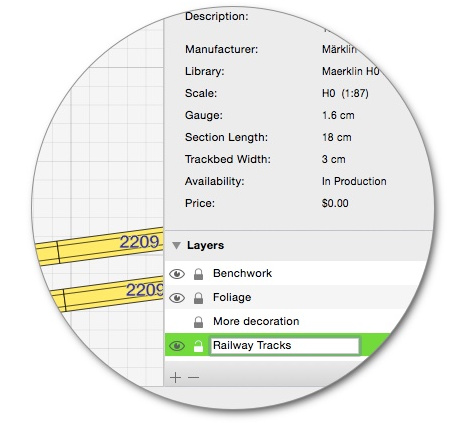 Layers
Organize your layout's content into layers using the layer system in RailModeller Pro.
Up to 99 layers can be created to keep track of your tracks!
Common functionality like hiding or locking layers support you when working
with complex layouts, reorder layers using drag and drop, assign them arbitrary names -
it couldn't be easier.
Assistants
Assistants provide advanced functionality like inserting parallel tracks,
closing gaps with sectional tracks or a fitting piece of flex track.
Even tasks like creating a track helix with dozens of tracks only take a few clicks.
The assistants are always just one click away in the toolbar of the app!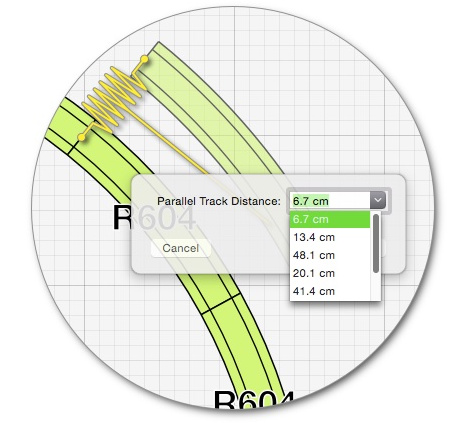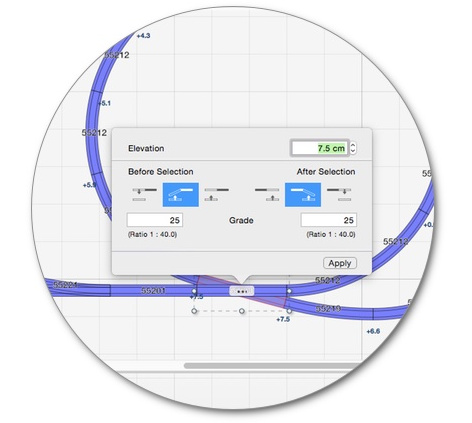 Grades and Levels
RailModeller Pro allows you to create complex model railroad layouts in three dimensions. Create grades up to a specified target point or simply by setting the start and
end height for a specific track section.
The optional grade profile view of track elements provides a quick overview taking the hassle out of designing complex layouts with different height levels.
Shopping Lists
A part list is automatically maintained for every layout providing an overview of the tracks used and the overall costs.
Element prices are editable in the part list and RailModeller Pro will maintain a price database making sure costs of elements are kept in synch across all layouts.
Layout statistics provide a quick overview of element types & libraries used in your layout.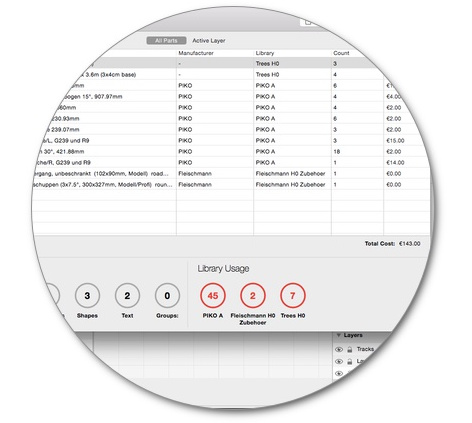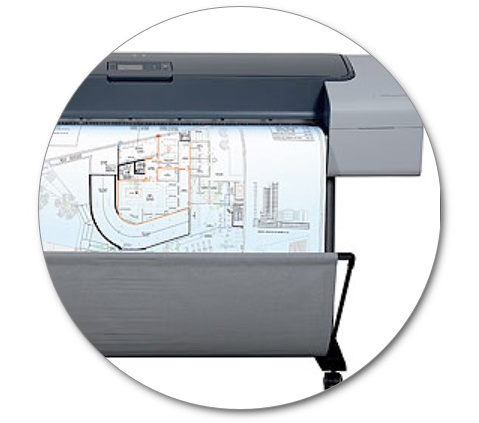 Print in any scale
Layouts can be printed in arbitrary sizes starting from a single sheet of paper
up to 1:1 scale to provide a draft for building your model railroad empire.
Stock Management
An inventory of tracks can be maintained to display the number of tracks remaining in stock when working on a specific layout or to filter the Parts list to show only tracks that need to be purchased to build the layout.
Stocks can be imported from a CSV file as well as exported to CSV for e.g. editing the stock with external applications such as Numbers, OpenOffice or Excel.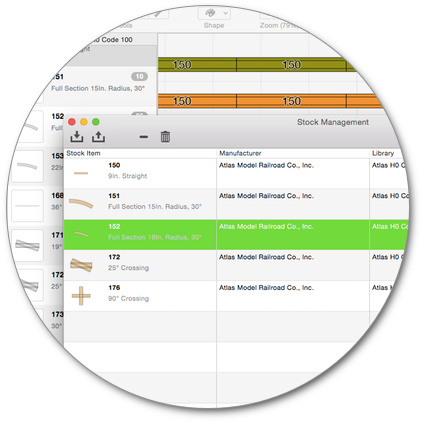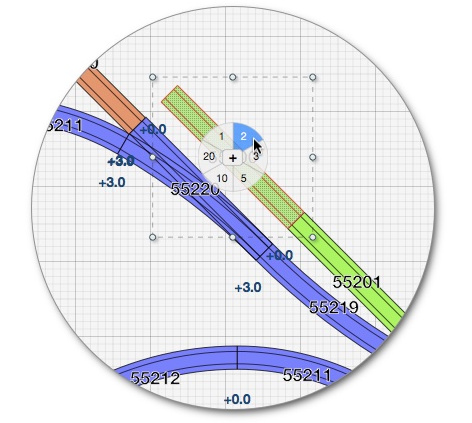 But there's more...
• A canvas size of up to 10 x 10 Kilometers (6.2 x 6.2 Miles)
• Different drawing styles for tracks, labels and the layout
• Graphic tools for annotating your layout design
• Handy features right there in the layout where you need it like a "Repeat" function
• Advanced functionality for creating selections
• Clean-up wizards for complex layouts
• Export to a number of image formats in any desired scale
• An automatically adapting drawing canvas never running out of space
• Integrated Online-Manual
..and we're just getting started:
More features are constantly added plus we've got a few
pleasant surprises scheduled for the coming months.